Today, being the middle of the week, is a What I Ate Wednesday post!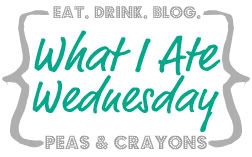 The twist on today's post is that 3/4ths of my food was eaten at my desk in the student room while doing patient prep for my two patients on the week. Here are the goods –>
7:30am breakfast consisted of overnight oats in a [peanut butter] jar. I used 1/3 cup of oatmeal, 1/3 cup greek yogurt (I make my own by draining regular nonfat plain yogurt which is WAYYY less expensive), 1/2 cup almond milk, 1/2 tbsp of chia seeds, and 1/2 tbsp of stevia powder. I added in a sliced banana in the morning and topped it off with wheat germ.
Deliciousness really. After class, I snacked on a gigantic, softball size Jonagold apple around 11:30am.
I ate lunch around 1:30pm and boy was it great. I had the leftovers of my BBQ salad from my dinner out with David last night (check below for a recap). I had two dressings which mixed delightfully: barbeque sauce and cilantro ranch.
My late afternoon, almost evening really, snack was consumed while writing up my patient report after seeing MY FIRST PATIENT EVER in Bone Dysplasia clinic. It went soooooo well and I was sooooooo nervous. I'm glad it's done though and that I didn't drown in paperwork. Seriously you don't realize how much medical paperwork there actually is until you do it yourself from start to finish. Anyways, I ate a Mojo bar around 5:45pm in order to tide me over while I finished the report.
When I finally left the student room I walked myself over to the campus center for their health & wellness night "New Year, New You". My nutritionist had been wanting me to get my body fat percentage measured using calipers instead of bioelectric impedance. Basically the latter way of measuring can vary wildly based on how hydrated you are, when you last ate or worked out, even how dry your hands are when you hold the device that is doing the calculations. So tonight I took advantage of the wellness event and got the measurements done. It feels good to know a much more accurate number.
I headed home on the 6:45pm bus and went to the fitness center when I got home. I did the elliptical and the stationary bike for 18 minutes a piece and then picked up some packages (two textbooks arrived) from the office. Dinner followed fairly late with a nice baked sweet potato topped with baked beans and a side of carrots/celery dipped in sweet & spicy mustard hummus. The dip was probably the best part! I must do that again soon.
Dessert followed in the form of a small bowl of ice cream, both spumoni and peanut butter blast. It was well deserved after a long day of patient prep and guess what, tomorrow is filled with much more of the same.
~*~*~*~*~*~*~*~*~*~*~*~*~*~*~
Last night David, a good friend from swing dancing, and I went out to an Irish pub for dinner to take advantage of a 2 for $30 deal. We both live around the same city and have had trouble finding friends so this was just what we both needed. When we arrived there weren't enough servers circulating so we found high chairs at the bar. For eats, we started off with their famous hand rolled pepperoni stuffed breadsticks
.
Oh man, holy yum! Seriously these were delicious. I could have eaten all four as my dinner but I didn't. I had this behemoth of a salad coming my way. Ladies and gentlemen, I present to you the BBQ salad which I chose to top with smoked chicken. Other toppers of the romaine lettuce included cheddar cheese, black beans, roasted corn, green/red peppers, and two GIGANTIC onion rings.
I only ate about a 1/3rd of it to put it in perspective for you. This plate was monstrous but super yummy. I loved every bite. For dessert, we chose the carrot cake and it was 100% the right choice. Seriously, I couldn't get enough of this. So superb. I loved the icing and the nuts.
On the whole I really enjoyed the food though I think the service could have been better. I feel as though we had to ask for everything multiple times before getting what we wanted however, like I said, the food was yummy. On that note, my dears, I am off to bed. I have another long day ahead of me tomorrow. I'll be lucky to have three moments to myself. Have a wonderful night/day!
Questions: What is your favorite kind of cake?
Do you take advantage of 2 for $___ deals at restaurants?