Welcome to my What I Ate Wednesday post for this week. I got a bit messy, you'll find out why in a bit.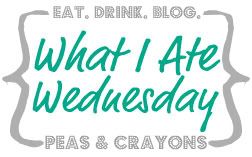 Because it is the first Wednesday of the month, and ironically the VERY first day of February, tonight was a Supper Club night! But let's not get ahead of ourselves. Breakfast first! I brought back the breakfast cake today with all oat bran, vanilla protein, mashed banana, and wheat germ. I slathered it in peanut butter, sprinkled it with chia seeds, and sloshed it with maple syrup.
How delicious. This baby kept me full for well over 5 hours! That is incredible. Around one in the afternoon I really figured I should eat something, keep my metabolism stable and all, so I nuked my glass jar of veggie chili and consumed it while doing patient prep.
Late afternoon consisted of listening to two breast surgeons talk about the risk-reduction benefits of and reconstructive options available after mastectomies, etc. It was really informative though it does make me scared to some degree. I can't imagine having to make all these decisions with a clear mind, let alone while in the throws of a cancer diagnosis. Geeze!
Though I was hungry during the surgeon talks I couldn't snack because it was only the six of us. Too close of quarters to politely eat. So I waited until I got into the car and snacked on the apple I brought with me.
Not twenty minutes later, when I arrived at my chiropractor's office, I was even more ravenous than before my apple so I busted out the protein bar from my purse.
Thankfully this kept me full until we got our tastes of Ethiopian food at the restaurant where Supper Club met this week. We had a plate of injera (which is basically a very thin, spongy bread) and a large platter of a variety of dishes.
Here are the dishes I could kind of decipher: sautéed spinach/greens, red lentil mush, brown lentil mush, refried beans kind of, salad dressed in oil, pickled cabbage, mushed goat?, mushed pork?, one chicken wing, one hardboiled egg. Deciding what we actually had was hard enough so it was good that the technique for eating it all was fairly basic, okay, very basic. Essentially you rip a piece of injera and pinch up bits of the mush on the other plate then put your hand to your mouth and enjoy. Alex, Wes, and I cleaned a plate ourselves in record time. Well, in all honesty, they cleared the plate, I had made a fourth, maybe less because this sort of food really isn't my style. I think need something to break up the mush but as you can see below, Wes had no issues!
To finalize the meal we tried honey wine, again Wes had no shame, and they roasted coffee beans at our table for our "nightcap".
The experience was a cool one but like I said, I'm not the biggest fan. I can't wait for next month because we're doing it up Mexican style. Nomnom! I excused myself and came home where I chowed down on a mug or two of Coco Roos in order to satisfy myself. I don't like feeling unsatisfied and not really pleased with a meal but this did the trick.
Now I think I need to wash dishes, figure out what I am going to pack for food tomorrow, brush my teeth, and get some sleep. Tomorrow is coming quick everyone! Before I go though I thought I would grace you with the gorgeousness of today. Seriously, this cannot be February first but if it is I'll take it!!!
Questions: Have you ever had Ethiopian food?
Are you okay eating with your fingers?