What a day!
I am have been so productive it's insane!
First, since this is a What I Ate Wednesday post (yay) I figure I'll get today's super eats out of the way first before moving on to the rest of today's awesomeness.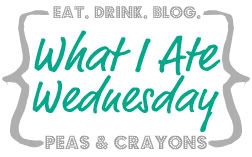 Breakfast consisted of a modified repeated of yesterday. I used all oats instead of an oat bran/oats split this time but it was still super delicious!!
I walked to class with a mug full of vanilla chai tea. Lunch was an awesome cherry tuna salad sandwich with a side of plantain crunchers and pretzels.
I saved the dried apricots and honey roasted peanuts you can see in the container for a snack that I had on my way home after our last class. For dinner I had a massive carb craving so I satisfied that with homemade pizza. I tried a super quick yeast dough and it worked out so well. I topped it with tomato basil spaghetti sauce, halved cherry tomatoes, artichoke heart quarters, turkey bacon slices, and provolone cheese.
Before and after…
It was so stellar. I could have eaten two. Yum.
You know me: dessert was a must. I took my last slice of cookie cake, warmed it for 30 seconds, and topped it with Mackinac Fudge ice cream, chocolate sauce, and a fun size bag of peanut butter M&Ms.
I snagged these from a candy bowl while I was on campus today. I'm fairly sure they are my favorite kind of M&M. Love.
~*~*~*~*~*~*~*~*~*~*~*~*~*~
Now onto the recap of the day!
First class was Communications and we had discussion about attending skills and primary empathy. We also went over our homework on the subject and I was pleased with how well I did because I had major problems coming up with content responses. Made me feel like I might know more than I thought I did. I'm glad.
We went back to the student room after class and promptly changed into business casual clothes (black pants, nice top, purple sweater) and four of us, the non-work study members of the group, headed to the job fair. The department doesn't have jobs for those of us who don't qualify as work study so we took matters into our own hands. I ended up meeting with three different hotels (where I made sure to plug my prior experience), a few disability advocate groups, and some tutoring services. I am hopeful but we'll see how things fall.
One of the perks of this job fair, aside from possible employment, was the swag!
If you can call it that… I picked up a bunch of free pens and post it notes and decked out my new desk in the student room. =D I also grabbed some candy. We'll see how long that lasts.
After the fair, we had lunch back in our room and did some homework. I would have done crosswords but we didn't get either USA Today or the NYTimes today at the department. I was sad but it honestly made me work in our downtime and for that I was pleased in the end. I got some reading done for Human Genetics. This also happened to be our next class.
The professor was less than impressive today as he was "shooting from the hip." Hey, his words, not mine. He got stuck on an example problem of the concept of epistasis. In the end, I ended up asking him if the important part of the last fifteen minutes was the example or the concept and, like I anticipated, he chose the concept as the take home message. Thanks. I'm glad we spent so much time going over a terrible example.
The class got better after we moved on. I will say though, I worry for people who don't have prior genetics knowledge. This could be a difficult class. I'm glad I'm in it with my five other first years. I think, as a team, we'll be flying high through the class with our combined knowledge. So far we're a good team and I hope it stays that way.
I walked home after class and boy, did I get sweaty!!!!
Believe it not, yes, this was just from the walk. I promise. It was something like 90 degrees out so I guess I'm not surprised but man, intense!
Sticking with the theme of sweat, I changed and went to the fitness room and did a nice 10 minute jog at 6.5mph and then an 18 minute hill climb on the stationary bike. I was an awesome multi-tasker during my bike ride too.
I got the whole chapter read that had been assigned for tomorrow's 9am class. Awesome.
When I returned from my intended and planned sweat session I immediately got busy in the kitchen. Tomorrow I am hosting a party for the first years in the genetic counseling program. I am providing appetizers and dinner and they are each bringing a bottle of wine or dessert. As for the menu, I decided a homemade lasagna would be perfect. It can cook while we talk and won't keep me in the kitchen so I can still socialize.
Let's get one tiny, mildly important fact out of the way. I have never made a lasagna before. So I chose things I had on hand. I ended up using a whole wheat lasagna noodle, Prego roasted red pepper sauce, spinach, onions, carrots, mushrooms, ground turkey, and sharp cheddar cheese. I added some garlic and Italian seasoning as well.
To make this bad boy, I browned the meat while cooking the pasta (man it is harder than it looks to cook those long noodles!) and then removed the meat. Using the very little fat (I like super lean ground turkey), I threw in the carrots and onions to soften them and added the mushrooms too.
Assemblage started and it ended up with two layers of stuff and three of pasta. I then tented the whole thing in aluminum foil and placed that heavy sucker in my fridge until tomorrow. It was a ton of work but I must say that I am super duper proud of it. Can't wait to taste it tomorrow night.
I also decided on garlic rolls to go with the main dish. Instead of buying them, that would be easier though it would require me to spend money I don't have budgeted right now, I took on the task of using yeast in order to make some. First, I proofed the yeast.
When it proved it was going to work (see all those bubbles!) I added in the rest of the ingredients and then kneaded the dough, adding about 1.5 tbsp of flour back into the dough through the whole process.
I then placed it in an oiled bowl and let it sit for thirty minutes.
When it had doubled in size I pinched it into six dough balls and placed them into muffin cups that had been coated in melted butter and dusted with a garlic parmesan spice blend.
They then had to sit for another thirty minutes to rise. <— I'll admit all this rise time is a reason I rarely use yeast. I normally don't set aside enough time or I just don't have the time in the first place.
Having doubled in size for the second time, into the oven they went for 12 minutes and came out perfect. Again, I can't wait to try them tomorrow night with dinner. So as you can see, it was a remarkably busy but totally productive night. I even cleaned the whole kitchen afterwards!
On another note, I realized something really random about myself today. I cannot stand it when my Google Reader has sixty THREE or fifty ONE things in it. I hate it not being a round number like 100. Hence, when I find my reader in this sort of shape, with 72 unread items in it, I had to round it down to the nearest "round" number in my mind. For instance, I would read two of those items right away and then leave more to accumulate for later. As long as I leave my reader at a round number I'm happy. I'm also silly. I realize that.
For now I am going to sit on my couch, watching the lightening out over the city (my apartment is perfect for this), and start my DVR recording of Top Chef Just Desserts. I am so pumped for this new season!
Question: Do you feel comfortable taking on yeast recipes?