Today is my second What I Ate Wednesday post!!!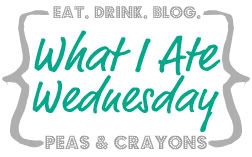 This morning I got up around 10:15 and snacked on the last bit of my EnviroKidz crispy rice peanut butter bar.
After getting dressed for a run and getting the Jack man up, we set out for a quick mile jog. We kept it short and sweet because the main reason for the jaunt was to check my RunKeeper against his (the presumably more accurate one because he is on a 3G network for his GPS instead of just GPS alone like mine). We were looking for things like consistency in time, distance, and speed and differences in the calculated number of calories burned because we obviously weigh different amounts so the calories should register differently for each of us. We were delighted to find that they were very close in all reports and the calories seemed to be adjusted for us individually. I still say my number is a bit high (106 calories per 1.06 miles) because I normally only burn 95 calories per mile but it's definitely not enough to make me not use the app. It's awesome.
I hit up the gym after our run and did 25 minutes on the elliptical along with some free weights:
Dead Lifts: 3x10lbs each hand
Standing Weighted Oblique Crunches: 3x10lbs each hand, each side
Bicep Curls: 3x10lbs each hand
I returned to the apartment for a quick shower while Jack made brunch. He is the master at eggs but had some trouble cooking in the new pans his mom got for him. I have no doubt he'll figure them out shortly. In the meantime, I had no complaints about my plate.
Two eggs with dippable yolks, seasoned with salt, pepper, onion and garlic powders, a slice of tomato, two slices of whole grain toast, and a nectarine for a fruit component. It was tasty and filling and nice way to refuel.
After breakfast, I checked my e-mail to find a great webpage that Jack had sent me.
In order to understand how funny this is you need to know just a touch of my medical history. I have had a rough time with kidney stones. Both times I have had them I have been hospitalized and had to have them surgically removed. My first was 1.4cm in size and my second was 0.9cm in size. To give you an idea, a normal stone that a person can pass is about 2-3mm. Mine were easily 5-7 times that size. I still have my first one in a vial and it is literally the size of a peanut or the end of my pinky finger. Anyways, the last time I was hospitalized they gave me my normal medications out of order and as a result I couldn't keep anything down. I didn't eat successfully for close to three days and finally, when my stomach calmed just enough, asked for only two things: french fries and a frosty. I distinctly remember chowing down close to midnight the night before my surgery on this delicious combo so this particular Dear Blank, Please Blank was right up my alley. It made me smile and giggle. =D
Just before we had to head out for our normal hour drive to Jack's chiropractic appointment, the snack monster struck for both of us. He had some Ritz and chocolate almonds and I had a repeat of yesterday's awesome yogurt bowl with some modifications.
In the mix: blueberry 0% Chobani, one gigantic plum, some Coco Roos, and Marshmallow Mateys. The blueberry/plum combo was a winner for sure. This filled me up as we went about our business. It also must have made me sleepy because I lasted about three minutes in the chiropractor's office waiting room before I curled up and conked out.
Jack was silly enough to snap this photo with his iPhone before waking me up. I was honestly surprised at how well I fit into the chair. It was rather cozy.
By the time we got home we were hungry for dinner so Jack set about at making his signature loaded mac and cheese. I had a pickle while he worked. (P.S. Why do pickles photograph so weirdly? Oh wait, maybe it's because they're neon green to start with.)
He sautéed up some minced garlic, onion, green pepper, mushrooms, and fire roasted peppers & onions with asiago chicken sausage (that's a mouthful of a name…and flavor) and then combined that with mac and cheese spirals! I added some oomph with garlic and chili powders and he added a touch of salt to his.
This could very well be my favorite thing he makes. I love when he cooks it because it's a super delish meal that I don't have to make and you know, every once and a while, a girl just likes to me cooked for. How sweet.
Tonight's plans called for swing dancing with a whole bunch of good friends so to prepare ourselves, we walked up to Red Mango and filled up on froyo. After all, everyone knows that dancing is so much better after dessert. Plus, we ended up getting there at the perfect time because right after we sat down, there was a massive influx of people. The line was out the door. We just watched, chuckled, and stuffed our faces.
My bowl had dark chocolate and coconut frozen yogurt on the bottom along with a brownie, then M&Ms, chocolate chunks, butterscotch chips and chocolate chips in the middle with some white chocolate syrup followed by POM/original froyo twist and raspberry cheesecake flavor on the top. I finished it off with mochi, Oreos, Reese's, sprinkles, and a variety of syrups. Yes, it was large. Yes, I ate it all. Yes, I loved every bite. Yum.
Dancing went well. It was certainly a nice way to end the night. I really enjoy seeing people and catching up and there were some fantastic dances tonight for sure. Can't wait to do it again though it's not looking like that will happen for a few weeks. With school starting and orientation and such, my schedule is tight, as is everyone's. Oh well, it'll happen sooner or later.
Now it is time for bed I think. Jack and I are actually getting up early tomorrow to start re-training our sleep schedules for school. Sounds like fun, right? Sure. We'll see how we feel in the AM. G'night for now!
P.S. Chocolate Covered Katie is having a super awesome chocolate-filled giveaway. Who wants some?