This morning was SWEATY!
And this post is my first What I Ate Wednesday blog!! Get ready.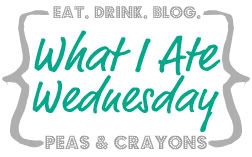 Before heading to the gym, I had a frozen banana bite with homemade white chocolate peanut butter. I can't even explain my love of this pre-workout snack. It's greatness.
At the fitness center, I did 30 minutes on the treadmill and 13 minutes on the reclined stationary bike doing the "hill" mode. Apparently these fitness machines give you a three minute cool down if your workout is under 20 minutes, hence the weird thirteen instead of fifteen. Oh well, still works for me. Instead of doing weights I gave my muscles a rest and did some quick abs before heading back to the apartment.
Jack had left slightly earlier from the fitness center than me so he had breakfast all sizzlin' and bubblin' when I got back. On the menu today for breakfast: two eggs covered in creole seasoning and nooch, a slice of turkey bacon, and a side of two pieces of whole grain toast. All served with a giant orange 32-ounce cup of water. Rehydrate yourself!
Sprinkling the eggs was the perfect decision. They tasted great, had a bit of kick from the creole, and then rounded out as cheesy toward the end of your chew.
Want to know the best part though??
Oh yea, the drippy, dippy, syrupy, fantastic yolks.
Yum.
All the better to be sopped up with the bread.
Awesome.
The rest of the morning consisted of a shower, unpacking and placing pictures and knick-knacks, and lots of vacuuming. Right before we headed out to Jack's chiropractic appointment, I scarfed down a much needed fuji apple (seriously the size of a softball, no joke) with chocolate PB2.
Chiropractic wasn't the only appointment on the books. I promised myself that I would downsize during this move so I had four bags of things for Goodwill. There was a store right by the chiropractor's office so that was an easy, no-brainer. Next was a tux pick-up. Jack is in a wedding on Saturday, for which we are super excited and can't wait, so we needed to get his tuxedo and make sure everything was the proper color and fit well. Thankfully, there were no mistakes. Finally, with a lighter load in the car and one tux richer, we headed up to Ryan's to meet my best friend and his wife for a nice dinner.
Confession: I tend to go crazy at buffets so brace yourself and know that I do not eat like this every day or even close…
Course One: Make your own salad with Kraft Free Thousand Island dressing along with some seafood salad, broccoli salad (best thing on the plate), and a touch of coleslaw.
Course Two: Jambalaya (in the bowl), coconut shrimp, buffalo shrimp, broccoli, cheesy cauliflower, mandarin chicken, jalapeno corn muffin (it was rock hard…sadness), a fried taco in the back and of course, mac and cheese!
Course Three: Cinnamon dusted sweet potato, cheese pizza (with a surprisingly fantastic crust, no lie), chicken nugget, corn, fried okra (really underwhelming, to me it doesn't taste like anything at all), and scalloped potatoes and onions.
Course Four: Desserts!!!!! Part one was a sundae that consisted of twist soft serve topped with hot fudge and butterscotch along with M&Ms and a small waffle cone "hat". It was so scrumptious I forgot to photograph it before I dug in. Part two was an array of many, many fantastic things: brownie with caramel, whipped cream, and peanuts; chocolate chip cookie (plus a chocolate chocolate chip cookie that I ate while perusing the dessert bar); key lime pie; coconut cream pie; Oreo mousse; butterscotch bread pudding; and chocolate decadence cake on one plate. Jack and I share so he got carrot cake (some of the BEST I have had and you know about me and carrot cake) and chocolate pudding and then some repeats of mine so he could have them all to himself.
Thankfully we do not clean our dessert plates. If we did we honestly might go into sugar shock but man, those bites and tastes of all the confections are so worth it.
One of the reasons for this meal, as if I ever need one to dine with good friends, was that today was Joshua's 24th birthday!! The b-day boy indulged in a sky high ice cream cone among other things.
He also opened the card I got him and couldn't stop commenting on the font. Apparently it was pretty unique.
The whole dinner date was filled with good conversation, griping about the terrible service (for which each couple received two free meals because it was honestly that bad), yummy dishes, and most of all, lots of laughter.
This is me laughing so hard I basically couldn't breathe. I was attempting to tell a story about a guest at work and my impression of him was apparently beyond funny. It's always good to laugh until you cry. =D
Tomorrow is one heck of packed day. Not only am I meeting up with two of my old roommates but Jack has another chiropractic appointment and we need to get the last of my stuff from his mom's house. Should be a really nice "blast-from-the-past" and I'm excited. Sleep well everyone!