This morning was day two of being back in the gym/fitness center. All decked out in my new running shoes I tackled the treadmill at a 5.0mph, 3.0 incline. I ran just under a mile in about 15 minutes. The pace was slow enough that I could focus on keeping my breathing even so I didn't have to take any large or gasping breaths. I have noticed this is my downfall right now, fresh off the accident. My chest and back on my left side are mighty unhappy with me (thank you seatbelt) and when I have to take anything more than a normal breath, it hurts. Anyways, this pace was perfect and it felt great to run again. Afterwards I hoped onto the elliptical for 18 minutes while mom finished her elliptical workout.
Back in the apartment, the phone calls started. I managed to schedule an appointment with the plastic surgeon to get my stitches removed but the other office that I am supposed to be following up with (a neurosurgeon for some reason) has absolutely no record of me at all. Real helpful right?
Now, let's get down to What I Ate Wednesday!! This is my third post in this series, can you believe it? I love reading up on everyone else's days too, so much delicious food.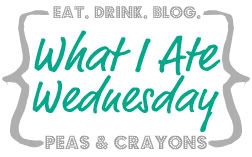 Dismayed by the service I had received on the phone, I went to the kitchen for some breakfast. Last night's hummus was calling me so I toasted up a slice of bread, smeared it on, and sprinkled it all with chia.
Mom had the same and we both split the last three tiny peaches in the fridge. I will say I do like peaches but the fuzzy skin sometimes freaks me out. I think I would take a nectarine over a peach any day.
Freshly showered, mom and I headed out to City Market. Basically it is a huge farmer's market and then on the inside of the building outside of which the vendors sell their things there are a whole bunch of kiosks where food is served. Everything from treats to brats, sweets to juice. It was incredible.
We meandered through the farmer's market portion taking in all the sights and smells. There was produce of all sorts, baked goods, freshly squeezed lemonade, flavored oils and vinegars, syrups and more. I was floored and so excited to see everything.
Because dad had to return back home after my accident and couldn't be with us, mom and I picked him out a stellar bag of coffee.
It's whole bean so he'll have to grind it but he likes to do that because he says it gives him a better flavor and freshness. I don't drink coffee so I'll leave that to him.
Along the way, there were all sorts of bites and nibbles from here and there. Freshly made pretzels and kettle corn topped my munchies list.
Then I came across the flavored balsamic vinegars. Oh my goodness! I wanted just about every single kind.
My favorite was probably the dark chocolate balsamic. This would be DYNAMITE on strawberries. If you haven't ever thought of dipping fruit into balsamic, do it. Now. You won't regret it.
When we had finished the farmer's market portion we moved into the building to grab some lunch. The whole place was sooooo expansive. There was a ton of variety.
As part of my Taste of the Big City adventure, I had read that there were two places I needed to visit: Natural Born Juicers and 3 Days in Paris. At the juicing station mom and I contemplated our options:
The reviews said that the Spice Cake smoothie (banana, apple, carrot, cinnamon, vanilla) was a must order so guess what I got? A 12oz Spice Cake. Mom chose the 12oz Spring Cleaner (apple, lemon, ginger, cayenne) which looked a little out there to me, I mean hello, cayenne in a drink? However, it was surprisingly good.
Both drinks really hit the spot and were so fresh. I couldn't have asked for a better starter. Now, I say starter because crepes were next. I consider those to be a main course and oh man, were they ever! Again, we surveyed the menu:
We settled on one savory and one sweet crepe to split: the Harvest crepe with ham, apple, dried cranberries, Havarti, spinach, and roasted raspberry chipotle sauce paired with the Classic which had banana, Nutella, walnuts and pecans. Ladies and gentlemen, I have found a new love.
Hubba, hubba!
I must say it was incredible to watch them make our crepes. Our lady pulled out "the big guns" for the nutella and knew we were splitting both so instead of making them the normal way, she made ours in "halfsies". Perfection on a plate for sure.
All in all, the whole City Market experience was phenomenal. I will definitely, definitely be back. *rubs belly* Oh yea.
Sadly, more errands were calling when we returned to the apartment so into the car we went. A Walmart run for blackout curtains, hardware store for things to hang my 5'x4' mirror on the wall, post office to mail some books, and then a natural health food store so my mom could stock me up with goods. I grabbed some oat bran to try (heard great things about it) along with hazelnuts (hello homemade Nutella, you are mine) and some muscle creams for my poor, sore body.
P.S. The cream on the left (back & neck rescue) works like a charm. I was amazed at how fast and how well it zapped my discomfort. Awesome product.
Confession: We couldn't leave without a bit of chocolate either.
My mother absolutely LOVES shopping in places like this as she also works in a very similar store very at home. She just goes crazy and I can almost hear my daddy sighing in the background but hey, she loves it and who am I to stop her? We had a blast!
To tide us over until our dessert dinner plans, we snacked on some crazy sprouted this seed that seed grain bread with some hummus while making my mom some custom trail mix for her long drive home tomorrow.
By the time seven rolled around and we had made the bed, packed up everything of mom's, and put away all the other things we had acquired today, we set out for our short 0.5 mile walk to YoguLatte. My mom has never been to a place like this so she was completely overwhelmed initially but she loved it.
Based on my previous trips to froyo places, I'll give you three guesses as so which one is mine and your first two don't count. =D
Tonight we're watching Bride Wars and sleeping early since departure time is 6am tomorrow. I will go over to the car with mom and stay at the welcome center for an early workout to start my day. A nap may happen later, not gonna lie, and then the second years in my program are hosting a pool party from 6:30-9:30p. I'm really excited to go, not to mention that by that time I will be stitch free!!!
Catch up with you all tomorrow. I'm taking my froyo belly to the couch!
Question: Do you have a local farmer's market you visit? If so, what are the best booths to grab some goods at?