It has been one heck of a long day my friends. For that reason, I'm going to keep this What I Ate Wednesday post short and sweet.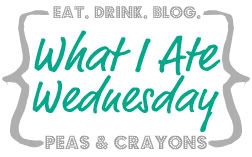 Breakfast was a scrumptious smoothie. I went with a carrot cake flavor today and boy, I need these more often in my life.
Check out the modified recipe at the end of the post!
Lunch was after Communications class and in the middle of a solid three hour block of homework before Genetics class. I had a Bavarian sweet mustard, hickory smoked turkey, provolone, tomato, red onion, and romaine sandwich.
On the side I had plantain chips, pretzels, and dark chocolate covered espresso beans. I'm not a huge coffee fan but these are divine.
During my walk home, and just prior to going grocery shopping, I snacked on this TLC bar that I got for free in the mail! Two bite test = awesome.
Post grocery shopping, homework article reading, and an awesome burn at the fitness center (18 minutes on the treadmill with increasing speed every five minutes and a final 7.5mph sprint along with 18 minutes on the elliptical) I refueled with dinner. Leftovers are my friend for sure.
Lasagna with a side of grapes hit the spot. I haven't bought grapes in forever but they were calling to me today at the store and I was looking for another fruit to have along with my apples. They ended up in my bag and my mouth is happy about it.
With a full belly, I settled in for a long homework session yet again. I spent a while looking up various support groups and lay literature for Ehlers-Danlos Syndrome as part of a class and a role play assignment. Eventually I got super duper stressed and I decided to take a hot shower and get my dessert on before relaxing into the night.
Dessert was multifaceted mostly because I couldn't decide what I wanted. First, I was craving a s'more so I grabbed a graham cracker, two marshmallows, and a hunk of Mr. Goodbar.
Oh man. Wonderfulness in every bite. Not as good as this monster of a s'more but certainly one of the best I have had in a while.
Yum. And yes, that is me in my orange pajamas and my orange towel. I has just showered and couldn't wait to take a bite!
The next phase of dessert included candy corn (it's almost the actual season for it again!) and a cup of Moose Tracks ice cream with chocolate syrup and a TimTam hidden in the bottom.
Good way to end a long day. Unfortunately, tomorrow is going to be just as long if not longer. We have all sorts of classes and meetings and such. I've just got to take it one step at a time. As for right now, I'm going to collapse on the couch but not before I give you the recipe for the carrot cake smoothie you must try.
Carrot Cake Smoothie
Inspired by Oh She Glow's recipe.
The key to this smoothie, for those of us who don't use any thickening gums, is to prep all the base of the drink the night before to give the chia seeds time to work their gelling magic. Trust me, the resulting product the next morning is so creamy. This recipe makes one smoothie, enough to fill a standard tumbler.
Ingredients:
70g carrots, chopped (about two medium veggies)
1 cup almond milk (I used unsweetened vanilla)
1 medium to large frozen banana (I typically use 100g, about 2/3rd of a large)
1 tbsp chia seeds
1/2 tsp vanilla extract
1 heaping tbsp (~10g) vanilla protein powder)
1/2 tbsp Stevia
4 shakes cinnamon
2 shakes ginger
1 shake nutmeg
How to:
1. The Night Before: In a 2-cup measuring cup, combine all but the banana and carrots and stir well. Cover and stick in the fridge overnight.
2. The Next Morning: Throw the base mixture into your blender and add in the banana and the carrot. If you don't have a super high power Vera the Vitamix, make sure those carrots are small enough to be pulverized completely without killing your blender.
3. Blend everything together long enough that the whole thing is creamy and there are no chunks left. Pour and enjoy!
So I lied, I have one more thing to share. This is dedicated to my best friend who is about to embark on a group project for a protein class. Good luck!
Now I'm heading out to relax and get some good sleep. G'night all!
Question: How do you like your s'more?