Today was nacho day at work. Man, by the time lunch rolled around I was super hungry so this big batch didn't last long. I skipped the meat and just had beans instead with some Mexican rice as well. Ranchero sauce, sour cream, nacho cheese, and salsa topped it off. Nomnom!
I promise they weren't as bad as they looked. I mean I did have lettuce and tomato on there too…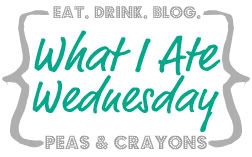 Anyways, I'm sorry that's all I photographed for the day. I feel like today was hectic and sort of fast paced. Even my workout was upbeat. I decided to skip my traditional go-to cardio routine and instead utilize the glorious wealth of YouTube. I did a HIIT workout followed by a 20/20 workout.
I was sooooo sweaty people. It was crazy. I was really tired afterwards too. My legs were screaming! Good times, right?
I thought so. Seriously though, I carried that energy right into teratogen summary work and I managed to edit my whole chloroform one and make my Toradol® one submission ready for changes from my supervisor. On fire I tell you. Speaking of, I think need some of the last chapters of Divergent in my life…
Questions: How was your hump day?
What was your favorite eat today?