Hump Day is here! You know what that means—>
The week is half over and this is a What I Ate Wednesday post!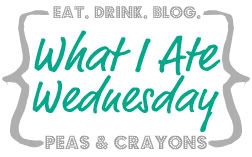 When I woke up thankfully it wasn't raining so I celebrated with two slices of toast.
One was covered with a smashed poached egg and the other had a layer of ricotta cheese and two kinds of jam: fruits of the forest and mango/papaya. It was ironically exactly what I wanted. I really do love craving healthy food because it makes staying on track so much easier. In fact, Tessa just wrote a great post about this very thing.
Because it wasn't raining (yay!) I walked my behind to school. It was nice enough out to just get away with my sweatshirt to keep me warm. I really love days like that. When I arrived we first years headed to Communications class where two prenatal counselors discussed some interesting counseling cases. The take home point: all prenatal counseling is not AMA and abnormal quad screen results. There is variety!
After class (which actually took the full two hours today) I did some studying and snacking on lunch. I had an apple first and then, twenty minutes later, a lemon Chobani with oats and chia mixed in.
Seminar, a very boring one at that, was at noon and the girls and I studied through the whole thing. I may or may not have slept for a few minutes too. Whoops. The post-seminar hour before Human Genetics class was spent studying…again. Blah, by this time I was actually looking forward to class just as a break. Class didn't suck too badly this time around though I think that might have been because I was a bit more awake (due to my sleep earlier in the afternoon). Who knows. By break time in class I was getting rumbly in the tummy so I busted out my sandwich. I made protein fluff using peanut butter, yogurt, and vanilla protein powder. I then smeared this between two slices of whole grain bread.
I was afraid that the fluff would have soaked into the bread and made it soggy but it actually didn't and was extremely creamy in texture. Yum! I honestly want to try it with chocolate protein powder. It may not be sandwich worthy but definitely something to eat by the spoonful. Hehe. =P
The weather must have been on my side today because after class ended at 3:30 it again wasn't raining so I walked home and called mom on the way. I love catching up with her. I know we talk everyday so it's probably not totally "catching up" in the way that most people use that phrase but I truly love to know what's going on in her everyday and dad's everyday. It makes me feel closer to them. Today's walk delivered a beautiful surprise on the way too: a monarch butterfly on top of a yellow-orange flower. How perfect.
When I got home I studied before heading out to an appointment and then my apartment complex's Resident Appreciation Happy Hour. They held an event for the whole complex at a restaurant right down the road called The Elbow Room. If you remember, I have been here before and wasn't super impressed so I was mildly wary but hey, who am I to pass up free food and drink and socialization?? I need friends after all!
While mixing and mingling I snacked on a few pieces of BBQ brats, soft pretzel bites, chicken fingers, half a potato skin, and some hard pretzels. I also tried some spiked apple cider.
Samuel Adams was doing tastings as well so I tried their Octoberfest and their Cherry Wheat. I liked the second one better though neither enough to buy any bottles. Oh well, my beer journey continues. Maybe one day I will find one that I love to drink.
The most awesome part of the night?? I basically had a "girl date" with the girl I met a bit ago, Mary. She and I hung out, ate, and got to know each other a bit. She is a law student and a foodie! What more could I ask for? I told her about the deep fried burger I tried with Jack and she WANTED TO TRY IT TOO! I was blown away and super excited. We are going to go together some day and try it out. I can't wait to spend more time with her as a friend. It feels good to know that I am making friends now and that I might have social interactions soon. Woot!
The whole party came to a close but not after I scored a few mini cupcakes to try. The red velvet was my favorite though the other (an almond cream maybe?) had great frosting.
Once home I studied and studied and finally rewarded myself with some ice cream.
I need to keep my spirits up just a little longer. I can't wait until this prenatal midterm is over at 11a tomorrow. Best thing about tomorrow is the fact that we are done with the whole day after the test so I can choose to do nothing (which probably won't happen) or work on my role play assignment (at least on my own time table, not rushed by a deadline). Regardless of if I do work, which being honest of course I will…I'm just too much of an academic for my own good, I will be alright with it because the pressure of this exam will be off. Yay! Weekend here I come.
Last thing to mention is that I am officially participating in The Great Food Blogger Cookie Swap of 2011!!! Essentially every blogger gets the names of three other bloggers and to each we send a dozen of our chosen cookie recipe. We, in return, get three dozen cookies (one dozen of three kinds) from three other bloggers. It sounds like so much fun and a great way to interact with other bloggers and get some sweet treats on the side. I'm pumped for it.
Question: What kind of cookie(s) would you want to receive?