It's hump-day, the middle of the week!
You know what that means: a What I Ate Wednesday post is in order!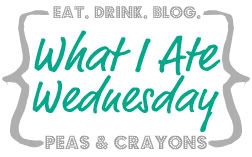 I started the day off with a new creation: a breakfast sandwich.
Two slice of bread (toasted with maple syrup), one fried egg, cheddar jack cheese, one slice of turkey bacon.
Scrumptious and filling for sure. Good way to start the day. I walked on to campus in the cool morning air and arrived just in time for class. The other three first years did their role plays today so I just got to sit back and critique their efforts. It was both nice and hard to watch because I feel like they all seemed so incredibly natural. Their flow was impeccable and they were really on top of their psychosocial questioning. None of them forgot to take a family history either. Oi, I just want to do well.
After class I worked on observation reports and had lunch just before going to seminar at noon. For eats: chocolate protein oatmeal/oat bran mix with chia seeds and Stevia. I topped it with melty Biscoff spread.
Now I intended to eat it all in one sitting but unfortunately seminar crept up on me just a bit quicker than I anticipated. I ate half and went to the lecture room to hear about pancreatic cell death in diabetics. The whole presentation was rather interesting though I admit I know very little about insulin production and how it relates to blood sugar and such. One weird thing: islet cell transplants in Type I diabetics only last 3-5 years then they're back to being diabetic again. Man, that sucks.
When we got back to the student room I finished my lunch and did more work until Human Genetics class at 2p. Today's lesson was given by a guest lecturer from the cytogenetics lab. We learned all about karyotype nomenclature, chromosome banding and interpretation, and polyploidy/aneuploidy. It wasn't a half bad hour and a half. We apparently have her again for more discussion on Monday.
By the time class ended I was pretty hungry so on my way home I snacked on some trail mix that I snagged after my race last Saturday.
The title suits it well. I loved the salty peanuts and the sweet chocolate gems. Right up my alley for sure.
Before I knew it I was home. Because I had been so productive at school I got the chance to just relax, chat with friends online, and start watching the season premiere of Terra Nova on my DVR. Around 5p I suited up for the gym and headed over. I did the same hills workout as yesterday except this time I started out at 7.5mph for the first four minutes and I finished it out with 6 minutes at 8mph. May I just say that an incline of 6.5 at 8mph is pretty gnarly… After this I did the elliptical for 18 minutes.
Thoroughly sweaty and sore (my right calf has just been all sorts of cramped up) I walked back to the apartment and jumped in the shower. I got dressed and ready just in time to head out for Supper Club!!! I was really excited. This evening was a genuine Palestinian food adventure.
We met up around 7p at Khoury's for a family style meal of selections from on and off the menu.
The giant table and 11 of us started off with the largest array of appetizers you can imagine. We were expecting more people and the food reflected that.
Think we had enough to eat?
Baba Ghannouj and Hommous
Kibby Niyah – raw extra lean ground steak with spices, topped with raw onion
Labneh – a strained yogurt dish that was a wayyy better version of sour cream
Falafel (amazing, I think I had four)
Basterma – a dried, spiced, thinly sliced beef
Soujouk – dry cured sausage
Dulmathes "Grape Leaves" – stuffed with rice, ground beef, and spices
I normally have a picture of my plate to share but let's be honest I had one or seven of everything pictured above. Haha, yes, I even ate the raw meat. I was incredibly surprised by myself.
Dinner was an off the menu creation that I have no idea the name of but it basically was a piece of bone-in chicken on top of cooked, sweet onions all cooked in a balsamic reduction (I think). It was served on top of a piece of crispy bread that was almost like a cracker. One of my favorite parts, personally. On the side was an almond flavored rice.
We were told that this was a completely authentic dish from the owner's place of origin. Man, it was cooked to perfection for sure. Before the dish arrived at the table we were informed by our waiter that we had to eat it with our hands or we wouldn't get the full experience. I had some reservations about that but I decided to bite the bullet and do it.
I devoured the whole thing with my fingers. Turned out that I was one of only two people at the table who finished and the staff was impressed. I was told numerous times that it was amazing how much food I could put away for my small size. I feel like I get that a lot.
Dessert was not provided by the restaurant but by our fearless leader, Alex. This meeting marked the one year anniversary of the Supper Club so we had cake!
He made an orange water cake topped with a 72% dark chocolate glaze. I devoured a piece easily. I was a happy woman.
After dessert we socialized for a bit, paid for the meal (which took forever but that's what happens when you have 11 some individual checks), and packed up the food.
Boxes? Oh yes, we cleaned our plates. We're foodies, we were not about to let this go to waste. Way too good for that. We parted ways at 9:30 and I was already pumped about the next one despite not knowing any details yet. I truly enjoy spending time with these people. I feel a part of something. Yay!
Questions: Do you like the idea of a Supper Club? Would you attend one?