Let's get our What I Ate Wednesday on shall we?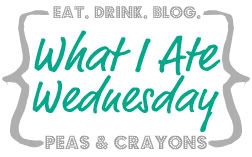 Today there was the opportunity to not go into school until 2pm.
It would have been glorious.
However, I can only imagine how nice it would have been because I was up at 7:30 to get my butt to the 8:30 shuttle and to the student room by 9am. Before leaving I had a nice filling breakfast of leftover French toast.
I topped it with peanut butter, Nutella, chia seeds, and maple syrup. Yum yum.
It was raining all morning so I hitched a ride to school and arrived still slightly wet. Thankfully I had thought ahead to bring dry pants, socks, and shoes with me. I changed into those and even went barefoot for a bit.
I worked and worked and worked all morning. I did ethnicity based screening research as well as some visual aid adjustment and printing. I also did role play refinement and dysmorphology studying. I will say this midterm is making me nervous just because I have been looking over the notes for a while and I still don't feel like I know anything. I really hope it sticks by tomorrow at 3p. Apparently our prof is making us brownies so if nothing else I'll be well chocolated… =D
Around noon I was hungry so I busted out my tuna salad sandwich and my "crunchy side" mix of honey twist pretzels, sesame sticks, bold chex mix, and dark chocolate espresso beans.
It took me a whole 20 minutes to eat because I was concentrating on the facial landmarks and such while nibbling. At two in the afternoon the first years sat through another lecture about genetic linkage. It wasn't as awful as last week but it was a necessary evil. I admit I got more out of this talk than the last one so that was good. I, for the first time, actually understood what a haplotype was so for that we'll say VICTORY!
After class April drove me home in the rain (isn't she lovely?) and I changed into workout clothes as soon as I arrived. I did a 30 minute elliptical and then the following weights circuit 3 times over:
Bent over butterfly raises with 8lb dumbbells

Bent over rows with 8lb dumbbells

Standing dead lifts with 10lb dumbbells

Bicep curls with 10lb dumbbells

Tricep dips under own bodyweight

Leg press with 80lbs
I felt really accomplished after but I was also super hungry so I headed back and showered. It was then time for an early dinner then to refuel.
It may not be pretty but this bowl of baked potato topped with leftover eggplant curry was delicious. I also had an apple with Biscoff spread for dipping on the side.
One of the reasons I ate early was because I had an appointment at 7p. The time between dinner and the appointment was filled with more work in the form of dysmorphology studying. There was also more of this when I got home and then I proceeded to counsel my best friend who was posing as a 27-year-old female who was 11 weeks pregnant, bipolar, and on lithium. It was rather funny but really more informative than anything because it gave me the chance to work some of the flow out and address questions I hadn't yet thought of. When this finished up around 10p I decided a brief dessert break was necessary.
A small bowl of Rocky Road and Birthday Cake ice cream with a warm dark chocolate cookie on the bottom and chocolate/caramel sauce on top hit the spot and gave me the necessary motivation to keep going. In fact, that is where I should get off to right now. More studying for me. I hope no work you!
Question: Why is it that some of the best dinners are the ugliest?