Who wants to know What I Ate Wednesday??!?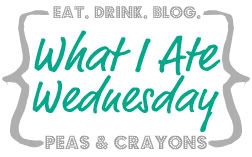 Well, if you're here I'll assume you do so let's jump right into the day.
Breakfast was a big bowl of plain oatmeal with chia seeds. To punch up the flavor I topped it with chocolate PB2 and maple syrup.
It's incredible how the toppings can make the whole dish. This was the perfect way to warm me up before I walked to school in the mild 60 degree morning. Got to class and we talked about comparative genomic hybridization (CGH). We were also handed a huge assignment of eight cases with CGH abnormalities of unknown or unclear significance. We have to do a big list of things with each case and after class I decided to get started. Let's just say that I spent three hours of dedicated work and I only made my way through 1/8th of the assignment. Oh my. This is going to be a toughie.
I was unfortunately hungry at 11ish but I managed to fend off the hunger until noon. I then dug into my lunch of a turkey, ricotta, and Bavarian sweet mustard sandwich along with sesame sticks, bold chex mix, and plantain crunchers.
I also had a few muddy buddies for dessert. Who doesn't love commercialized puppy chow??
Genetics class was a heck of time today. We all couldn't focus. We were falling asleep. We were unhappy to say the least. Finally it was over and I began my walk home. On the way I snacked on an apple and a chocolate hazelnut ball for protein.
When I arrived home I got my homework on and worked on my midterm role play preparation. After a significant chunk of work I started to get hungry so I decided it was time to workout and then eat to refuel after. I headed to the gym and did 19 minutes on each the elliptical and the bike then I walked back and showered. Being clean and warm in PJs I got my eat on in the form of leftover Santa Fe Casserole with the addition of some chopped roma tomato and creole seasoning.
With all the spice of the casserole I needed something to cool my mouth so I grabbed a cup of applesauce and sprinkled it with some Stevia and cinnamon.
I talked with some people online as I worked my way through the bowl. After my little dinner break I got back to business and spent another two hours working on my role play. Halfway through that work time I indulged in some 71% dark chocolate slathered with a bit of Biscoff spread (so called crack in a bottle by Tessa).
Doesn't it look amazing?
I took my time with it but believe me, I could have just downed the whole thing in one bite. It was that good. Note to self: have this again…soon!
When I finally finished my work I decided dessert (for real) was well deserved. I made myself a peanut butter dark chocolate brownie with crushed Oreos in the batter and Reese's Pieces on top. As this lovely creation cooked, I licked the batter bowl dry…
Can you blame me? Best part: no raw egg, no guilt. When the brownie emerged I scraped it out of the ramekin and topped it with Rocky Road, chocolate, and caramel. Let's be honest, the brownie didn't hold together well but it had all the right flavor in all the right places bites.
Yum, yum. Nomnom.
At this point in the night I should really read the last two articles on pregnancy termination for Foundations class tomorrow in the AM. I should also pack my lunch. That means I should get off this blog. Sadly, I bid you good night. See you for the downhill portion of the week!
Questions: Have you ever participated in WIAW? What do you like best about WIAW posts?