Today was the day of the big Human Genetics exam.
It was also a What I Ate Wednesday!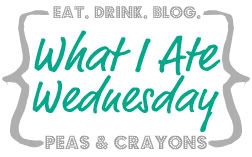 I woke up and thought a nice filling breakfast would be a good way to start the day so I whipped up an oatmeal/oat bran mix with almond milk, chia seeds, and stevia. I topped with some peanut butter (half a JIF to go container) and maple syrup.
Don't you just love how runny and gooey peanut butter gets when it's heated?
I know I do!
I headed on walking to school and printed off some of the assignments that were or are soon to be due. Communications class focused on self-disclosure and self-involving responses which at the moment, as a new student counselor, is pretty uncomfortable. We'll see how I feel about those topics when I get a chance to try them out in role plays.
After class the first years split up and hunkered down to study. Do you think I have enough notes to go over?
Ugh. We studied for two hours and then went to seminar from 12-1p. Before we went though I grabbed lunch. It was a hodge podge of stuff today.
Carrot and celery sticks with both peanut butter (the rest of the JIF to go container from this morning…) and garlic hummus to dip them in along with strawberry greek yogurt (which I got for free) topped with vanilla granola. It was very nice. I liked the yogurt and how creamy it was and I had absolutely forgotten how much I LOVE carrots and peanut butter together. Nomnom.
Seminar was boring and to be honest we all sat there are studied while half listening. I snacked on some candy corn to keep myself motivated and awake.
When the presentation finished, I went back over some notes before sucking it up and taking the test at two o'clock. I was pleasantly surprised to find that I knew mostly everything. I stumbled on 2 questions out of 45. I'm interested to see what my grade turns out to be. Hopefully he'll have them done by Monday…
On my walk home post-test I consumed a Mojo bar because I was starving.
These are really good and was the perfect afternoon pick-me-up. I made my way home in the cloudy weather and spent the next two-ish hours doing ABSOLUTELY NOTHING. Wow, I haven't had the ability to do that for a good while. It was nice. I'll admit I started to lose all motivation around 5p because I really wanted to go out to dinner but I really shouldn't be spending money right now and I had no one to go with. Instead of going out, I consoled myself with an 18 minute elliptical/18 minute bike workout. Afterwards I felt a little better (yay endorphins) and used that slight upswing in mood to get going on dinner.
On tonight's menu: veggie fried rice based on this recipe. I deviated from the original just a bit. I used canned peas and carrots, added in freshly chopped white onion, and used Bragg's Liquid Aminos rather than tamari. I also "scrambled" my egg a new way tonight. I cracked it into the hot pan and then broke the yolk and spread it out to cook. Then I mixed the whole thing together.
Hey, it may not look pretty but it meant you got some yolk pieces and some white pieces which was a nice contrast. I also used brown rice that I had left in the fridge.
The whole thing was a) pretty heaping and b) nicely flavored. The coconut oil/sesame oil combo was yummy.
I did work on physics test coding after eating and ended up doing it wrong, kind of. Thankfully my mistake should be okay in the long run or might only require a few little tweaks. So it wasn't a total loss…I hope.
When I had had my utter fill of that, I hoped in the shower and then drowned in dessert. Honestly, I may have an ice cream problem.
These are half gallons and there is a whole other unpictured quart in the freezer…
*nervous giggle*
Now in order to understand my dessert you need to see what I baked to mend my broken attitude this afternoon. Peanut-scotch chip banana muffins based on this recipe started with hand-creaming butter, peanut butter, and sucanat/Stevia.
They say you need a stand mixer for this. Please, you just need my biceps. =)
Light and fluffy…all with a little elbow grease.
Next step: the addition of eggs and some pretty sad looking bananas.
Then it was time for the dry ingredients to be combined into the wet.
Next was the fun part: I always do my chips by hand to ensure the maximum distribution among the final product(s). So I layered batter with peanut butter chips then more batter and butterscotch chips.
This recipe was originally written to make one loaf (or three mini loaves) but I wanted muffins because they are the perfect portions and way more portable. So I winged the baking time and temp: 335F for 20 minutes. It worked PERFECTLY!
I also used a bit of the extra batter to make myself a little muffin top in a ramekin. This was my base for my gigantic cavern bowl of ice cream.
I heated it for 10 seconds then topped it with all three kinds of ice cream, chocolate, and caramel.
Stellar.
I also had the last dark chocolate cookie in my chocolate drawer. I need to make more.
With that my dears, I am going to check over my dysmorphology presentation (that I give tomorrow) and head to bed. I was tired today. Have a lovely night!
Questions: Do you like straight up banana bread or do you appreciate all sorts of variations? If so, which is your favorite?