Welcome to What I Ate Wednesday!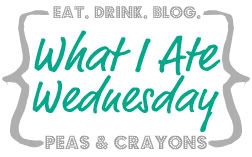 Because I'm up to my knees in work, I'm going to be brief tonight.
Breakfast was some awesome pumpkin chai oatmeal. I used a half/half mix of oatmeal and oatbran along with chia seeds, pumpkin (the last bit of my singular can), chai latte protein powder, stevia, a pinch of salt, plus some cinnamon/ginger/nutmeg/allspice.
I topped it with coconut butter and maple syrup. Loved it and it was the best way to use up the last bit of my pumpkin.
From the moment I arrived in the student room and for the rest of the day, my willpower waged war on this box of bad boys:
At school, after a Communications class that was cut short by a fire drill, I worked a whole bunch on my case prep for Monday and ate a turkey, gouda, and dijonnaise sandwich.
On the side was Bold Chex Mix, dark chocolate espresso beans, caramel apple candy corn, and 2 mello crème pumpkins.
We had Human Genetics in the afternoon and on my way home post-class I snacked on a Mojo bar in the flavor peanut pretzel.
I like this one when I'm craving salty things. The pretzels meld so well with the peanut butter and there is just enough crunch.
I managed to avoid the rain until about one block from my apartment complex. Luckily it only spit as I made my way into the lobby. It rained fairly hard later when I was doing my 30 minutes of elliptical training in the fitness center. When I got home I made dinner. Leftover mania I tell you!
I used up another serving of broccoli macaroni and cheese along with the last of the lentil meatloaf. The lone addition: homemade BBQ sauce.
Confession: While that was heating up I totally snagged a pickle.
As if my willpower hadn't been called on enough today, I again waged war but this time it was on more homework I had to finish. A shower came next (a bit delayed, right?). Finally, the creation of visual aids for my Monday role play was the last task to tackle. Then dessert, finally.
I started with a s'more. Seems to be my favorite thing lately.
Then I had a bowl of Blue Bell Kentucky Delight and Birthday Cake along with some Moose Tracks as well. Chocolate syrup and sprinkles finished it off.
That's it for tonight ladies and gentlemen. Tomorrow is my long Thursday and I have yet to make my lunch or plan my day out and make sure I have everything I need. I'm going to jump on that now.
Question: What did you eat this Wednesday?